When you think of Welsh culture, it is the language, the music and the songs which first come to mind.
In the heart of rural Wales the harp is still hand made by skilled harp makers at Telynau Teifi, The Harp Centre of Wales in Llandysul. Harps are very important to Wales – the harp's musical heritage is deeply and passionately entrenched in our culture, and the harp is undoubtedly our national instrument.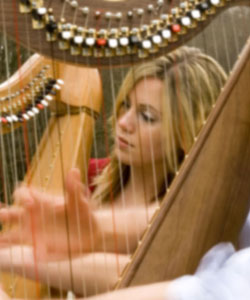 With this precious legacy in mind, we ensure that harp-making skills are kept alive, and actually thrive, in Wales – the home of the harp. Founded by harp-maker Allan Shires, the The Harp Centre of Wales is a small company with a big passion for harps. They know that the most important element of any harp is its sound, and Telynau Teifi harps produce an instrument that sounds wonderful.
The harps made by Telynau Teifi have have a truly distinctive sound – huge, rich and warm, with a clear, ringing treble. Harpists are delighted with the responsiveness of the instrument, and the clarity and depth of sound that can be achieved with these harps. For those learning to play the harp, these Welsh-made folk harps use the same string spacing as larger concert harps, so stepping up to a full concert harp in the future is an easy step.
We use only the finest hand-selected materials to make harps that are stable, reliable and look as beautiful as they sound. The Harp Centre of Wales wants harp enthusiasts everywhere benefit from the results of the company's vision and unique method in combining tried and tested traditional techniques with innovation and vision, in the exciting quest for the perfect harp.
Telynau Teifi
The Harp Centre of Wales
Marble Terrace, Llandysul, Ceredigion SA44 4DT
Wales UK
Telephone:

01559 363 222 – please ring to check opening hours
Web:www.teifiharps.com
Email:info@telynauteifi.co.uk