Saturday 13 Apr 2019 - Sunday 14 Apr 2019 - 07:30 PM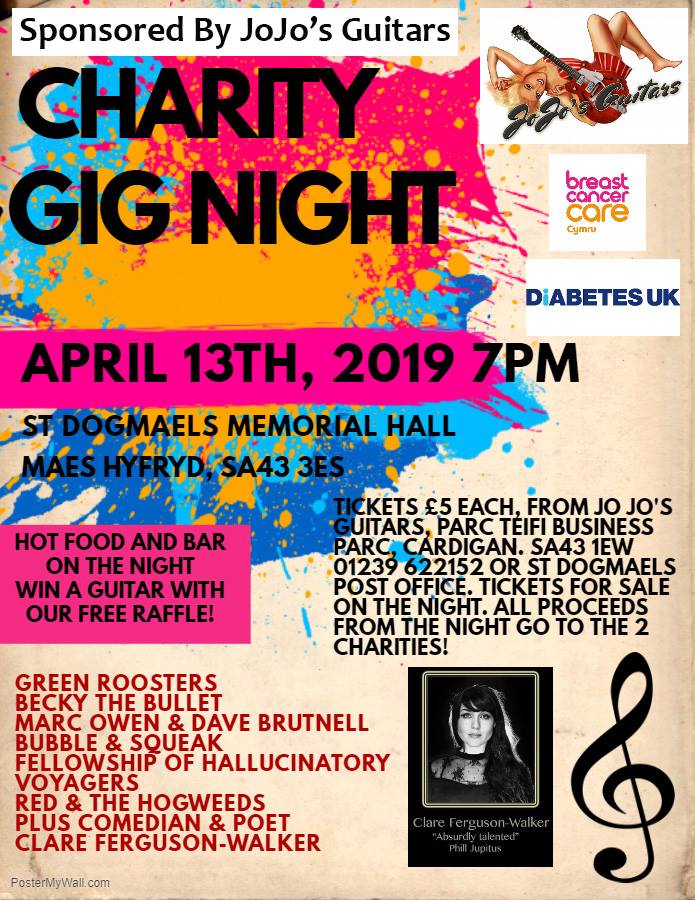 We have decided to have our own charity gig night, sponsored by Jo Jo's Guitars at St Dogmaels Memorial Hall. Poster below. Lots of fantastic bands on the night and a great comedian to compare the event. There will be a free raffle, including a free guitar from Jo Jo's guitars for one lucky person, guitar lesson, CD's, a free breakfast from the Cellar Bar in Cardigan and more. Hot food on the night (£5 per plate), meat or vegetable chilli and a very reasonable bar for all your drinks.
Tickets can be purchased from Jo Jo's guitars, Parc House, Parc Teifi Business Parc, Cardigan. SA43 1EW telephone number: 01239 622152. Tickets will also be available from St Dogmaels Village post office and for sale on the night. All proceeds from the night will go to our 2 chosen charities Breast Cancer Care and Diabetes UK. It should be a fantastic night!
Price: £5 each including free raffle ticket
Contact: Jo Jo's Guitars
Email
:
admin@ecopcs.co.uk
Facebook: events/420579498683495/
Tel: 01239 622152
Location: St Dogmaels Memorial Hall
Add to Google Calendar