Wednesday 11 Dec 2019 - Saturday 14 Dec 2019 - 07:30 PM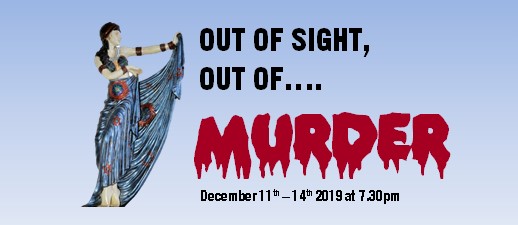 When we read a book, we often speak of the author's ability to bring the characters to life almost as if they are jumping off the pages. But what if they really did come to life and take over all the action? This is the delightful premise of "Out of Sight, Out of Murder' written by Fred Carmichael the latest play in production by Attic Players. With a sinister, isolated mansion, dramatic thunder and lightning and a cast of nine truly dodgy characters, any one of whom could be the killer, this play has all the ingredients for an entertaining evening! Some characters revel in their villainy invading the authors mind. Others just want to be free! Who has the means and motive? Whose charming exterior conceals the black heart of a killer? When will the unexpected guest arrive? All these questions create a magical mystery interwoven through twists and turns of humour.
This Attic Players production directed by Clare Littleton together with her team of creative, talented cast and crew will leave the audience guessing and laughing until the very end!
Contact: Alan Waterman
Twitter: TheAtticPlayers
Facebook: TheAtticPlayers
Tel: 01239 711550
Location: Cawdor Hall
Add to Google Calendar