Sail from New Quay to see the Dolphins, porpoise, seals and other fascinating marine life along the Cardigan Bay Heritage Coast.
For Half Term from the 11th to 21st February one hour boat trips on the Dreamcatcher. There is only space for 12 people on each trip so please book now to avoid disappointment.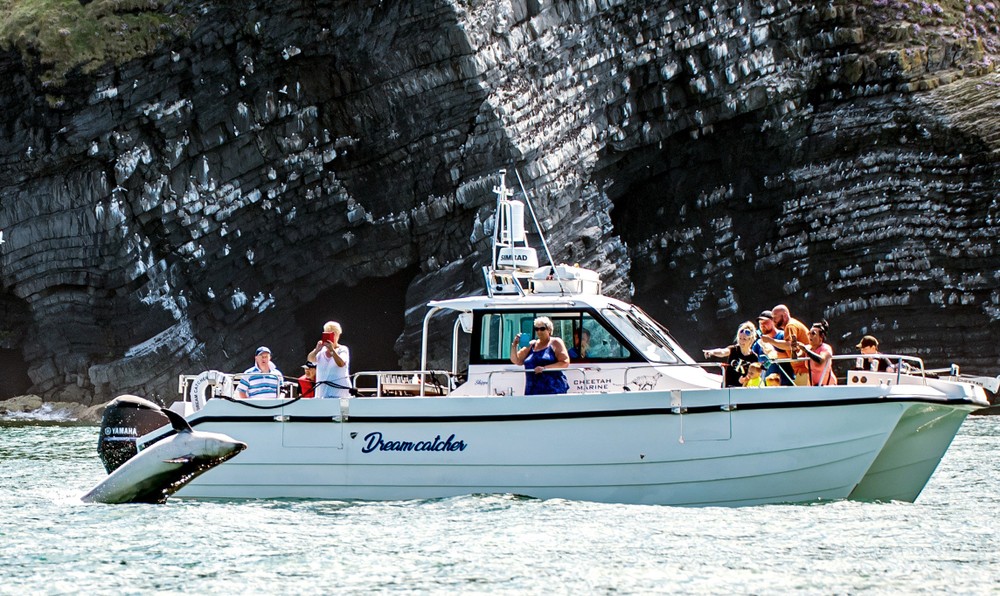 Let Winston Evans Boat Trips of New Quay West Wales share with you the breathtaking delights of a cruise along the Cardigan Bay Marine Heritage Coast. Our coastal waters are home to an abundance of fascinating marine life including one of only two resident populations of Bottlenose Dolphins in the UK – 250 identified in Cardigan Bay.
You can choose either a one or a two hour cruise – both daily daily from the main New Quay pier
The Ermol VI [1 hour cruise] The boat trip passes Birds Rock, The Caves, Cwmtydu and Seals Bay.
The Ermol V [2 hour cruise] The boat trip passes Birds Rock, The Caves, Cwmtydu and Seals Bay and as far as the beautiful peninsula of Ynys Lochtyn.
Dolphins, Porpoise and Seals are wild and as such cannot be guaranteed on every trip. However, when encountered, the skipper of your boat will slow down [or stop] to allow the best possible view without causing disturbance to the animals in line with the Marine Heritage Coast guidelines. When dolphins are encountered any stop time will result in the boats not travelling as far down the coast as advertised.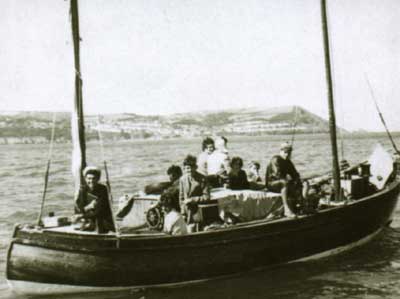 Winston Evans started crewing for his father on the Yns-Enilliin in the late 1950's. We have over forty years experience in carrying passengers from the beach at New Quay.
As always safety is our number one concern.
Our vessels are fully licensed by the Maritime and Coast Guard Agency and our experienced skippers are fully qualified boat masters. Conforming to the Maritime Safety Agency regulations we carry full lifesaving and emergency apparatus and all our passengers are fully insured.
Don't miss this fascinating experience. We look forward to welcoming you aboard. Our experienced crew will answer all your questions about the Ceredigion Marine Heritage Coast. Boats Run April to October. Please wear suitable warm clothing in case the sun goes in, and remember sun protection is advised when out on the sea.
Due to social distancing we are running at a reduced capacity so please book in advance, you can book online – details below.
Fares
Adult
Child
1 hour – Ermol VI
*£15.00
£10.00
1 hour – Ermol V
*£15.00
£10.00
*Adults 16 and over
10% discount when booking 10 adults or more
To book a trip:
Call us at New Quay Pier
Telephone
:

01545 560 800
After hours
Telephone
:

01545 560 375
Tickets and Boarding at Main Pier New Quay
E mail: 
info@newquayboattrips.co.uk
Web: 
www.newquayboattrips.co.uk
Find out more about 
New Quay
 and 
New Quay Beaches
.