Sail from New Quay to see the Dolphins, porpoise, seals and other fascinating marine life along the Cardigan Bay Heritage Coast.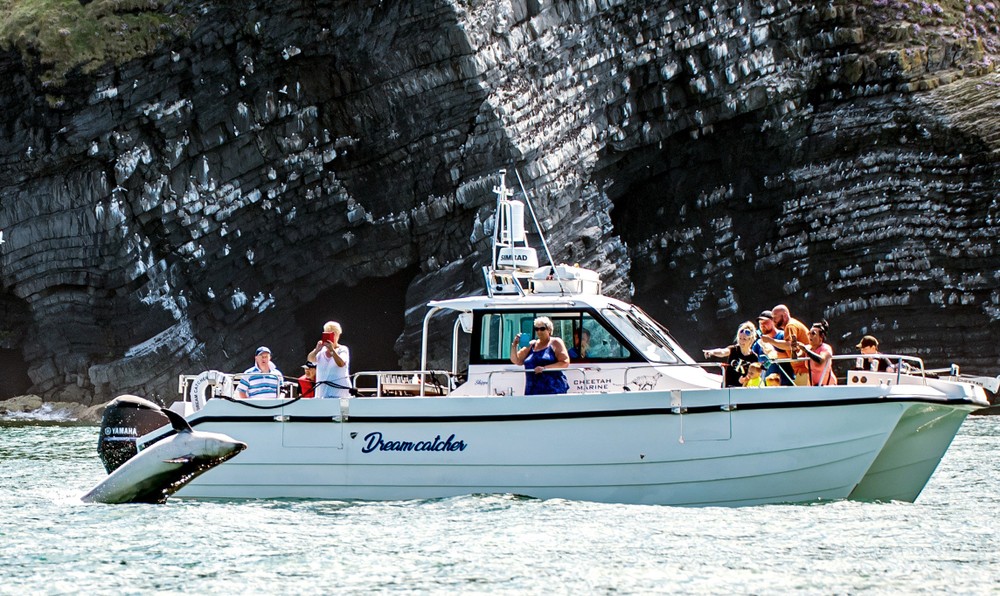 Let Dolphin Spotting Boat Trips of New Quay West Wales share with you the breathtaking delights of a cruise along the Cardigan Bay Special Area of Conservation. Our coastal waters are home to an abundance of fascinating marine life including one of only three resident populations of Bottlenose Dolphins in the UK – 300 identified in Cardigan Bay.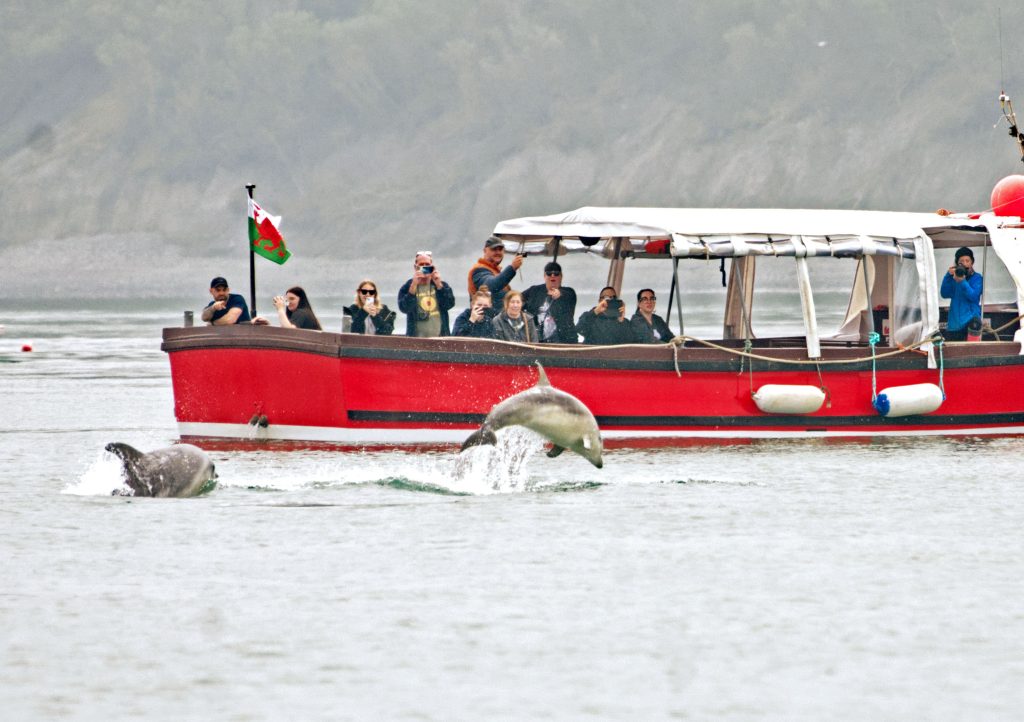 You can choose a dolphin spotting boat trip of either one hour or an hour and a half on our multi passenger vessels Ermol 5 and Ermol 6, with partially covered seating and we have the Dreamcatcher, a modern ten metre catamaran which only carries twelve passengers with an island wheelhouse you are free to walk all around the boat wherever the dolphins are and enjoy unobstructed views in 360 degrees
The Ermol VI [1 hour cruise] The boat trip passes Birds Rock, The Caves, Cwmtydu and Seals Bay.
Dreamcatcher 1 hour trips and private charter available (up to 12 passengers)
The Ermol V [2 hour cruise] The boat trip passes Birds Rock, The Caves, Cwmtydu and Seals Bay and as far as the beautiful peninsula of Ynys Lochtyn.

Dolphins, Porpoise and Seals are wild and as such cannot be guaranteed on every trip. However, when encountered, the skipper of your boat will slow down [or stop] to allow the best possible view without causing disturbance to the animals in line with the in line with the 'S.A.C. code of conduct. When dolphins are encountered any stop time will result in the boats not travelling as far down the coast as advertised.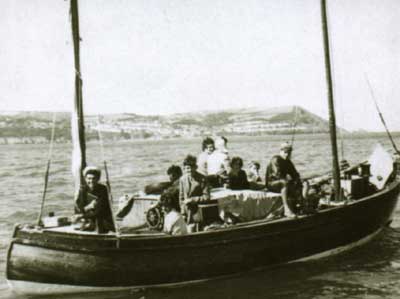 Winston Evans started crewing for his father on the Yns-Enilli in the late 1950's (Pictured right), Winston has over 65 years experience in operating safe, fun and educational boat trips from New Quay.
Our vessels are fully licensed by the Maritime Coastguard Agency and our experienced skippers are fully qualified boat masters. Our vessels and crew are regularly inspected to ensure we fully conform to U.K. regulations. We carry full lifesaving and emergency apparatus and all our passengers are fully insured. Our experienced and enthusiastic crews will be happy to answer all your questions about the wildlife and local area.
Don't miss this fascinating experience. We look forward to welcoming you aboard. Please wear suitable warm clothing and sun protection. Visit our website for availability and  online booking.
PRICES FROM £15 adults and £10 children for one hour.
Find out more about New Quay and New Quay Beaches.
To book a trip:
Call us at New Quay Pier Telephone:

01545 560 800
After hours Telephone:

01545 560 375
Tickets and Boarding at Main Pier New Quay
E mail: info@newquayboattrips.co.uk
Web: www.newquayboattrips.co.uk