Welcome or Croeso, as we say in Welsh,to Cardigan Island Coastal Farm Park
This unique farm park is stunningly located on a scenic headland, overlooking the nature reserve of Cardigan Island, just 200 yards offshore. It is home to thousands of seabirds and a flock of wild Soay sheep, originally from the Isle of Soay near Skye.
A colony of Atlantic grey seals breed in the many caves below the cliffs of Cardigan Island Farm Park and can be seen every day. Sometimes it requires a little patience, but often they can be seen immediately.
The unusual shape of the coastline creates sheltered calm waters near the island. The seals will often be on the sheltered side which depends on wind direction.They bask on exposed rocks at low tide [tide times vary day to day], especially during warm weather. The seals give birth here during September – October. The fluffy white pups can often be seen lying on the rocks below the park.
Cardigan Island Coastal Farm Park is one of the best places in Wales to view seals in their natural habitat in complete safety!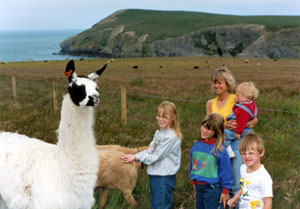 Cardigan Bay is home to the only resident population of bottle-nosed Dolphins in English and Welsh waters. They are frequent visitors to this part of the coast, especially during calm weather, when they come closer to the shore. Dolphins can often be seen clearly from the Farm Park. They provide an unforgettable sight, as they leap high out of the water.
There are a variety of friendly farm animals, some of which can be fed by hand. There are goats, sheep, Shetland and Welsh Mountain Ponies, rare breed cattle, pigs, ducks, geese and chickens, plus llamas, wallabies, emus and rheas from far-off lands. Rare Choughs, now disappeared from England can be seen here. Cardigan Island Coastal Farm Park now has a new adventure playground with swings, slide and sandpit and wonderful views. A tractor and trailer taxi to the seal view point operates from Spring Bank Holiday to Sept. 30th every day apart from Saturday from noon to 5 pm [less frequently in October], There is a small extra charge.
Open: 10 am to 6 pm Every Day, from MARCH 30th to OCTOBER 31st
Visitor Centre
Tel 01239 623637 Mr and Mrs Lyn Jenkins
Cardigan Island Coastal Farm Park, Gwbert, Cardigan, Ceredigion, West Wales, SA43 1PR