Constitution Hill Aberystwyth home of the longest Cliff Railway in Britain and the biggest Camera Obscura in the World
You must visit this fascinating attraction and sample the delightful atmosphere of a Victorian pleasure park. Constitution Hill rises dramatically 430 feet from the north end of Aberystwyth promenade.The views from the top are spectacular.
On a clear day you can see 26 Welsh mountain peaks including Snowdon, whilst the view of Cardigan Bay from the Llyn Peninsula to Strumble head extends for 60 miles.
Aberystwyth Cliff Railway
The Aberystwyth Electric Cliff Railway is the longest in Britain and the only one in Wales. Its 778 feet undulating track and tilted carriages are the unique work of Victorian engineer G. Croyden Marks. It opened in 1896 operating on the water balance system but since 1921 a powerful electric motor and 2 high tensile steel cables have hauled the carriages at a stately 4 miles an hour. This gives you time to enjoy the panoramic views as you climb to the summit station and marvel at the Victorians ingenuity.
'Safe?' Of course it is!
Four independent braking systems maintained to the highest standards will give you peace of mind.
The Camera Obscura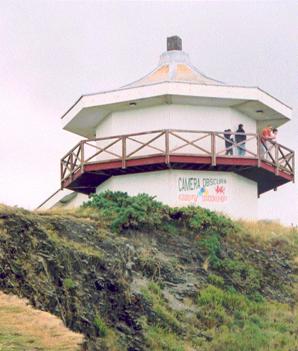 On the summit is the biggest Camera Obscura in the world. The huge 14 inch lens takes a birds eye view of more than 1000 square miles of land and seascape in a 360 degree sweep around Aberystwyth, a view reflected onto the circular screen in the darkened viewing gallery below.
Souvenir Guide:The guide details the fascinating history of Constitution Hill from its early development into the focal point of Mid Wales' leisure activities to its current status as a 'must see' attraction to all visitors to Wales.
Y Consti Restaurant: Our restaurant 'Y Consti' provides a breathtaking setting for visitors to enjoy a range of refreshments. The restaurant was designed as a replica of the former Summerhouse Tearooms cafe and funded by a European Union Objective 1 grant.
With a team of experienced waiting staff and respected chefs 'Y Consti' is rapidly gaining a reputation for excellence. Whether you simply wish to keep hunger at bay with a freshly made sandwich, or to cool down on a hot summer day with a creamy Welsh ice cream, we can provide a range of snacks and drinks to suit all tastes. For the more hungry visitors the restaurant offers a menu of home-cooked meals at very reasonable prices, with mouth-watering daily specials giving an even greater selection
We are open 7 days a week from mid-March until early November 10am – 5pm.
We also open 5 days a week (Wednesday-Sunday) from November to March from 10am.
If in doubt please contact us to check opening hours. Trains run every few minutes and admission to all summit attractions is FREE OF CHARGE.
Cliff Railway House, Cliff Terrace, Aberystwyth, Ceredigion, SY23 2DN, UK
Telephone:

01970 617642
E Mail: manager@aberystwythcliffrailway.co.uk
Web: www.aberystwythcliffrailway.co.uk
Find out more about Aberystwyth
You can now STAY at Aberystwyth Cliff Railway!