A working distillery 5 miles north of Cardigan, on the main West Wales coast road, In the Welsh Wind is open to visitors for gin making experiences, gin tasting experiences, and of course, to buy gin!
You might not immediately associate West Wales with premium gin brands, or with whisky, but our team at In the Welsh Wind Distillery are on a mission to change that. You are invited to come along to the distillery to find out more about our story, to become the distiller and discover more about Welsh gins, and of course to take a deliciously smooth souvenir of the Welsh coast with you back home.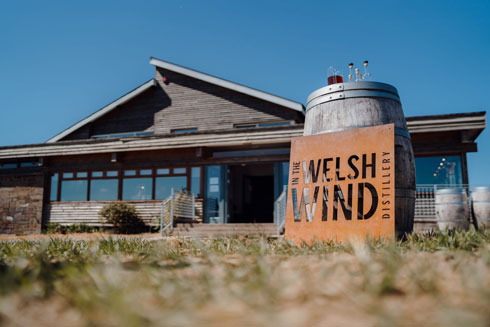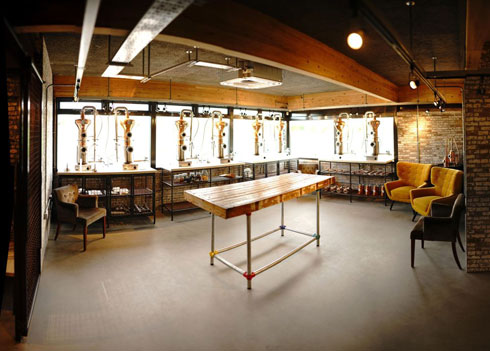 Gin Making Experiences
We offer gin making experiences at the distillery. Learn about distillation and the importance of botanicals. Run a distillation through one of our custom-made copper pot mini stills. Find out about the 'heads', 'hearts' and 'tails' of a distillation, and taste your gin as it develops. Measure the ABV and cut back your gin to 40% ABV. Personalise your bottle label, add the duty stamp and close your bottle, ready to take home and enjoy as you choose.
Our Gin Making and Gin Tasting Experiences are available to book by calling

01239 872300. Availability may be limited depending on circumstances.
Gin Tasting Experiences
Gin tasting Experiences allow you to spend time in the distillery, getting to know a variety of gins. Enjoy a gin and tonic on us in our bar area when you arrive. Our Gin Tasting host will talk you through the gins we have on offer and guide you as you taste 3 carefully selected spirits. Finally, enjoy a G&T of your favourite gin.
Our Bottle Shop
Open every day, Monday to Friday 9-5 and Saturday 10-4, you are welcome to visit the distillery and buy a bottle (or 2) of gin from us. One of our team will be available to talk you through the gins we have for sale, and to answer your questions. We can talk to you about the history of the distillery and what's in store for the future.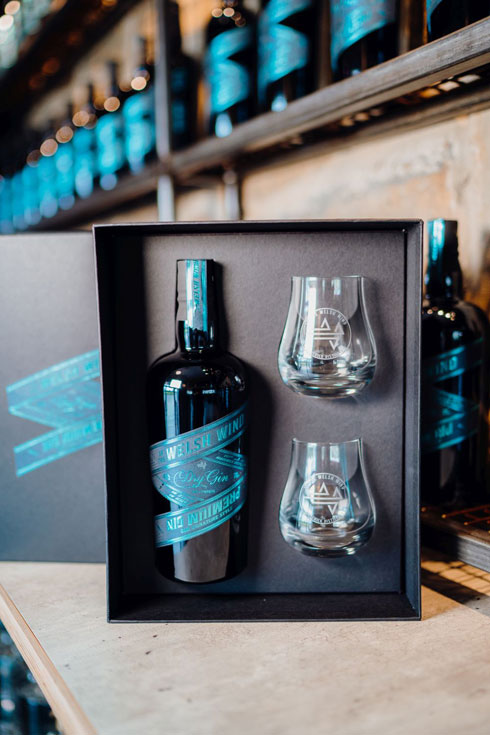 More about In the Welsh Wind Distillery
In the Welsh Wind is an 'open' distillery. We welcome visitors to come and find out more about what we do here on the West Wales coast.
Established in January 2018, initially in a renovated cowshed at Tresaith, the distillery now occupies the former Gogerddan Arms pub situated at the cross roads of the main A487 coast road which joins Aberystwyth to Haverfordwest, and the B4333 which joins Aberporth to Newcastle Emlyn and on to Carmarthen.
The distillery develops and distils 'custom branded spirits' for other brands including Tenby Dry Gin, Solva Gin and Declaration Gin. Many of the gins we have developed are award-winning and have been recognised internationally as well as nationally. The distillery itself has been recognised as best Rural Start Up in the Wales Start Up Awards 2020, and our the owners were recognised as the Wales Food and Drink Entrepreneurs of the year in 2020 in the GB Entrepreneur Awards.
Our own gin, In the Welsh Wind Signature Style, is available to purchase from the distillery. An oil rich juniper-forward dry gin, the signature botanicals include sweet orange, cinnamon, ginger, nutmeg, cloves and tea-soaked currants. The inspiration for our Signature Style is the cargoes imported into the UK through the ports on this part of the coastline, and in particular, New Quay where the landing tariff boards are still affixed to the harbour wall, and tell of exotic goods brought from overseas to Welsh shores.

The home of Welsh Origin Whisky
As well as gin, we make other spirits including rum.
In 2020, the distillery launched its Welsh Origin Whisky 'Tarddiad Cymreig' project, to develop a truly grain to glass welsh whisky. Welsh barley will be malted in Wales for the first time in over 100 years, in our own malting house. Once distilled, our new make spirit rests in our cask store where our Welsh Origin Whisky matures for at least 3 years in shaved, toasted and re-coopered casks, specially selected to complement our style of whisky.
Not only does this give a truly Welsh whisky, it provides local farmers with a sustainable market for their barley – historically an important crop in West Wales, as evidenced by Cardigan's annual 'Barley Saturday' celebration.
Come along to the distillery and see what's happening 'In the Welsh Wind'.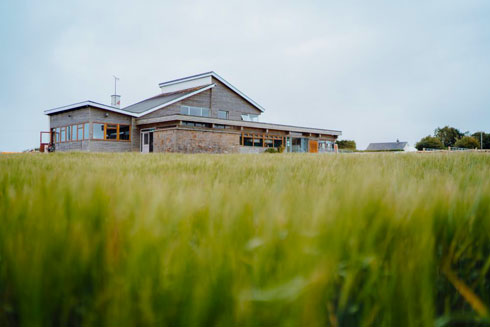 In The Welsh Wind Distillery
Gogerddan Arms, Tan-y-Groes, Cardigan SA43 2HP
Telephone:

01239 872300
E mail: sally@inthewelshwind.co.uk
Web: www.inthewelshwind.co.uk
Follow us on Twitter @Inthewelshwind and on Facebook inthewelshwind and instagram @inthewelshwind
Find out more about the local towns of Cardigan and Aberporth