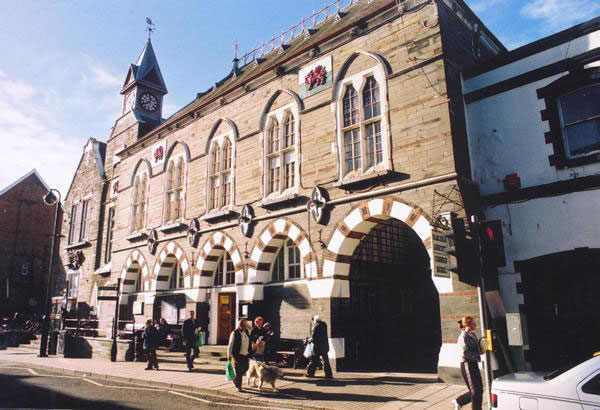 Cardigan West Wales, Ancient market town on the River Teifi estuary, home of the first Welsh Eisteddfod and start of both the Pembrokeshire Coastal Path and Ceredigion Coast Path.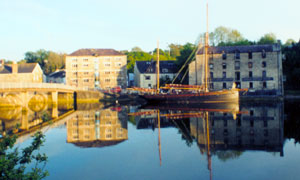 The market town of Cardigan is an essential stop on your visit to Cardigan Bay. The slow pace of change in this part of Wales has helped preserve the 19th character and charm of this ancient town.
The narrow streets, traditional shops, inns and eating places many with their original Georgian and Victorian fronts help create a unique visitor experience.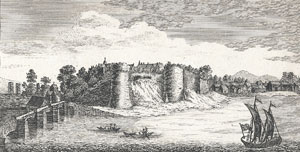 In 1093 the Norman Roger de Montgomery established the town and Cardigan castle. In 1176 the rebuilt castle became the site of the first competitive Eisteddfod. From the Middle Ages Jumper became a major trading port and ship building area and was one of the most important ports of emigration to North America.
In 1816 there were over 300 sailing vessels registered at the port and more than 200 ships were built at its five shipyards. Following the arrival of the railway and road improvements, sea transport became un-competitive. The rapid silting of the river finally sealed its decline as a port.
History of Cardigan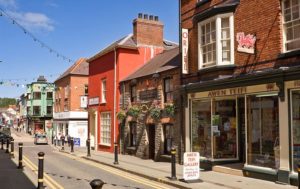 Today Cardigan provides a traditional shopping and cultural centre for local residents and visitors to West Wales. You will find the traditional Butcher and Baker and Grocery and independent chemist shops, plus specialists for local arts and crafts, sports and fishing and much more.
There are also large supermarkets including Tesco at the top of town by the bypass and Aldi, straight up the high street just after the Catholic church on your right.
Emigration to the USA and Canada.
The Port of Cardigan became an important point of emigration to North America from Cardiganshire. Ships such as The Active and The Albion crossed the Atlantic to take Welsh people to a new life in New Brunswick Canada. Whist in the 1840's the brig Triton took many emigrants to New York and other US ports. The family of Americas most famous Architect Frank Lloyd Wright took the short journey from Llandysul to Cardigan to sail to the USA.
Exploring Cardigan Town
Cardigan Castle opened in 2015
All Wales Coast Path
See the Walking pages on this site for more information on walking around Cardigan Bay.
Cardigan is the main town at the northern end of the Pembrokeshire coastal path and the start of the Ceredigion Coast path now part of the All Wales Coast Path. There is a regular bus service from Finch Square to the start of the walk at Poppit Sands. It is also the southern start of the Cardiganshire / Ceredigion Coastal path which forms part of the All Wales Footpath. The walk from Cardigan to Mwnt can be made into a circular walk and the beaches of Mwnt and Poppit Sands are a short distance away.
Cardigan Festivals and Events:
Cardigan has many special events throughout the year including:
Barley Saturday in April
Sea Trout Challenge in June
Gwyl Fawr (The famous Cardigan Eisteddfod) in June/July
Agricultural Show in July
The River and Food Festival in August
Outdoor Shakespeare Festival in July/August
St. Dogmaels Regatta in August
Carnival Day in August
Cardigan Fair in November
Victorian night in December
For more details of these and other events around Cardigan see the Events page on this site
Visit
Cycling