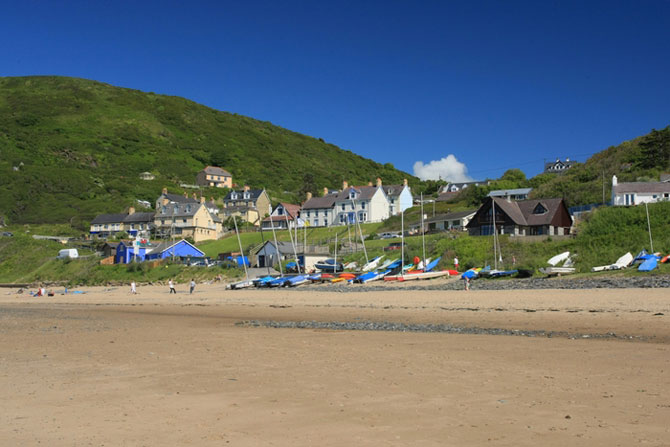 Tresaith is a tiny coastal village with a popular sailing club set on the Cardigan Bay coast between Aberporth and Penbryn. Perfect for a beach holiday or pottering around the local area, with fantastic walks on the doorstep.
About Tresaith
Tresaith has a café on the edge of the beach and The Ship Inn is the perfect spot to eat or drink overlooking the sea with sheltered window seats, outdoor dining and often a welcoming fire in the winter.
The village is set in a small sheltered sandy bay named after the River Saith which cascades as a waterfall over the cliffs to the beach. The beach is very popular with families during the summer offering safe swimming and rock pools.
Annual Events
Tresaith Mariners Sailing Club summer regattas are held every year complete with marquee on the beach, bar open all day and live music in the evening. There are also sandcastle competitions for the children, and sailing races. You don't have to be a sailor or a member to come and join our party. Keep up to date with events in and around Tresaith in the events calendar.
Bottlenose Dolphins
Bottlenose dolphins are seen frequently close to shore. In 2006 orcas and harbour porpoises have also been seen but such sightings are rare. Even rarer was a turtle seen in 2005. Sunfish and Basking sharks are often seen offshore in the summer.
The Bottlenose Dolphins are regularly seen swimming and diving as they follow the shoals of mackerel into the bay.
You can take a peak at the sea any time using the webcam from Tresaith Mariners.
Walking Ceredigion Coastal Path
See the Walking pages on this site for more information on walking around Cardigan Bay. There is a lovely coastal walk from Aberporth to Tresaith, and in the opposite direction walk from Tresaith to Penbryn.
The beach at Tresaith has a dramatic waterfall! a great location to look out for dolphins, play in small boats or just relax and listen to the gulls.