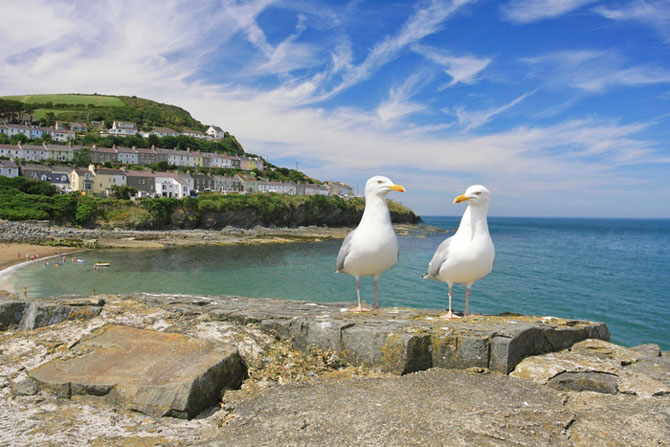 New Quay is a picturesque seaside town on the Cardigan Bay coast of West Wales. Its golden sandy beaches and sheltered harbour make New Quay a delight to visit at any time of year.
History of New Quay
New Quay was once a flourishing shipbuilding centre and fishing port. The miles of secluded coves around New Quay provided ideal hiding places in the less salubrious but probably more profitable trade of smuggling spirits and tobacco.
Today the small local fishing and pleasure craft still come and go in the sheltered bay. New Quay's beaches extend in a golden arc around the bay and are ideal for relaxing and strolling by the sea. Enjoy a walk along the front to the end of the Quay and watch the boats sail by. Or sit in one of the cafes overlooking the harbour and see the dolphins
Bottlenose Dolphins
The Bottlenose Dolphins are regularly seen swimming and diving as they follow the shoals of mackerel into the bay. For a great view of these beautiful creatures stand at the end of the Quay, Even better take one of Winston Evans Boat Trips to explore the full delights of the Cardigan Bay Marine Heritage Coast.
Dylan Thomas lived in New Quay during 1944/45 and many of the characters and indeed New Quay itself, is thought to be the basis for his famous play for voices Under Milk Wood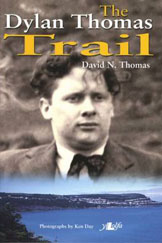 A recently published book by David Thomas 'Dylan Thomas A Farm, Two Mansions and a Bungalow' published by Seren, sets out an impressive case in favour of New Quay being the real life inspiration for Llareggub. Also try 'The Dylan Thomas Trail' by David N Thomas published by Y Lolfa which includes many walks around New Quay following the steps of the great poet.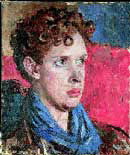 The Dylan Thomas Trail
Ceredigion County Council provide an excellent map and detailed walk for you to follow the The Dylan Thomas Trail [PDF] Each location is clearly marked, though the section to Llanina can only be done at low tide, so check the tides before starting. The walk takes in many interesting sites around New Quay and is a great way of exploring this colourful seaside town.
Walking Ceredigion Coast Path
See the Walking pages on this site for more information on walking around Cardigan Bay. There is a lovely coastal walk from New Quay to Cwm Tydu and using the bus it is possible to do this just one way.
The beaches of New Quay – yes more than one! are a fantastic place to watch dolphins, play in small boats or just relax and listen to the gulls.
For details of festivals and events around New Quay see the Events page on this site