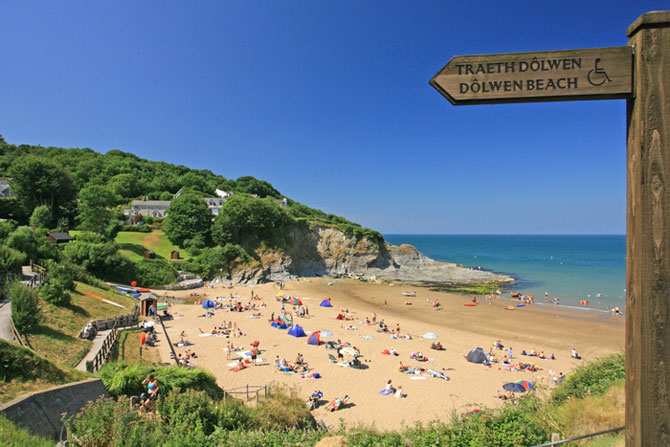 The former fishing village of Aberporth is a great place for a traditional family beach holiday with a beautiful Blue Flag beach.
History of Aberporth
In the 17th and 18th century when herring were plentiful in Cardigan Bay, Aberporth had at least 20 full time herring smacks until the demise of the herring stocks. Crab and lobster fishing still continues at a lower level to this day.
The picturesque village overlooks two sandy beaches and is one of Ceredigion's favourite holiday destinations, proving popular with tourists throughout western Europe. Rock pools are exposed at low tides and the cliff top walks along the Ceredigion Coast offer extensive views as far as the Lleyn Peninsula.
Bottlenose dolphins are seen frequently close to shore. In 2006 orcas and harbour porpoises have also been seen but such sightings are rare. Even rarer was a turtle seen in 2005. Sunfish and Basking sharks are often seen offshore in the summer.
Aberporth is a popular recreational fishing village in the summer and is also popular with divers and boating people. It has two good beaches and has been awarded a blue flag for its beaches several years running due to the high water quality found in this area.
Bottlenose Dolphins
The Bottlenose Dolphins are regularly seen swimming and diving as they follow the shoals of mackerel into the bay.
Walking Ceredigion Coastal Path
See the Walking pages on this site for more information on walking around Cardigan Bay. There is a lovely coastal walk from Aberporth to Tresaith, and a circular walk around Aberporth.
The beaches of Aberporth – yes more than one! are a fantastic place to watch dolphins, play in small boats or just relax and listen to the gulls.