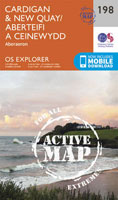 Walk information
Map:: Explorer 198
Distance 5 miles circular
Approximate Time 2.5 [5] hours
Description A walk with everything from woodland paths and traditional 'green lanes' to open fields and spectacular sea views
Start The walk starts from either of the Aberporth blue flag beaches which have parking overlooking the sea.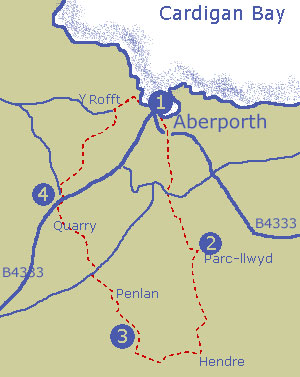 Aberporth – leaving the sea behind walk up Fordd Yr Odyn past the Ship Inn for 250m until road bends left. Take turning ahead to Ffordd Y Felin and T junction crossing into shaded lane signposted Parc-llwyd and cross over little bridge. Follow track for 200m to wooden gate. Turn left in front of house and bear right round it. After bungalows look out for way marker in fence on left ahead of you. Follow this track for 650m until you come to a bridge
Parc-llwydd – Cross bridge, head uphill and at top of bank arrive at open field with waymarker where path slits. Go left to stile, cross and keep straight ahead to waymark post, drop down to gully and cross bridge. As you cross the next field diagonally, look behind to enjoy excellent sea views, pass right of large tree in the middle of the field and then head towards right hand end of row of trees ahead of you to find stile. Cross stile to junction of two fields. Follow left hand hedge line of right field, cross stile and turn right to head up track. Follow track for 900m passing farm on right. At T junction with road, turn right and after cattle grid you will see a pond on your left.
Pond – Turn left here between gate posts, down muddy lane to gate. Head along left hand side of next field through another gate, (when crossing this field look to right to beautiful view of coastline). Through gate bear right, going to left of clump of trees and then bear right to gate by house. Pass house and at end of track turn right into road and head downhill for 75m to footpath sign on left. Go down here taking care as it is quite steep. Cross stile and wooden bridge, follow path through wood to stile after which bear left up track. Follow fence for few yards until you see stile on your left at which point bear slightly right across field. (Look to your right for panoramic view of Cardigan Bay). When approaching corner of field, look for big ash tree and gate, go to right of gate and follow path near top of wood. Cross over double stile on left and go straight across field ahead. After crossing small wooden bridge and stile, clamber steeply uphill and past house to emerge on road (B4333) at a footpath sign.
Footpath Sign– Go down road, turn left at road junction and follow road for about 150m to footpath sign. Turn right over stile and go down right hand side of field to enter wood. Follow path through wood – over stile and bearing left, until you come to gate, turn right, carry on to come out into field. Go down right hand side of field, cross stile and follow track left, passing behind house. Follow signs and waymarks through houses to emerge onto road at house called Y Rofft. Follow road down for about 500m back to car park and beach
NOTES: Hourly bus service between Cardigan and Aberporth available. Nos.550,551,552.
Accommodation