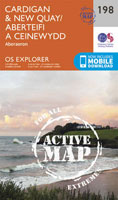 Walk information
Map:: Explorer 198
Distance 10.5 miles circular
Approximate Time 4.5 hours
Description An excellent walk that offers the walker wonderful views of the Teifi Estuary and a chance to rest midway at the scenic National Trust property of Mwnt with its picturesque chapel hiding beneath a triangular hill. A possibility of seeing dolphins and seals in the waters around Mwnt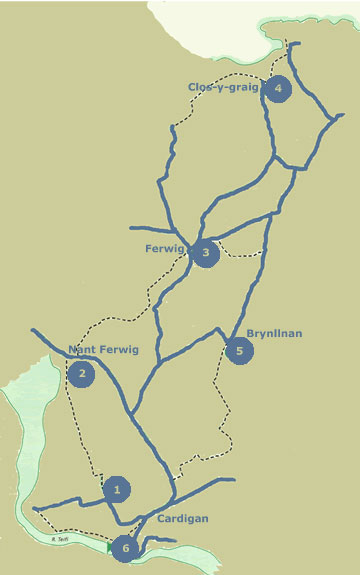 Start The walk starts from Cardigan Quay car park Cardigan. Grid reference SN 175 460
Refreshments are available in the summer (open for Easter and closed after October half term) at the cafe above the beach at Mwnt and in Cardigan.
Car Park – With supermarket on right go to end of car park & follow track, turn right uphill & straight ahead past some houses to waterworks. At works take path to left of gates & follow this to stile just before Old Castle Farm. After stile turn right up farm road, follow it to right & then left at T junction. At gate ahead, where track bears left
At gate ahead, where track bears left, go through gate & follow waymarkers across 4 fields. When path dips downhill cross stile & follow field edge to corner, turn right & go through field gate onto road & turn right.
Go along road for 100m, looking carefully for gap in hedge & footpath sign. Turn left here to go in front of next house & then turn right up green lane. Follow this for 1/2 mile & bear right over stile & left up farm lane. Follow this track for about 500m & then turn right through gate just before next farm. Go across 4 fields keeping about 50m from trees on right. On seeing line of houses ahead go to right hand corner of field across stream & over stile.
Clos-y-Graig – Turn left in lane & left again in Verwig for 300m. Take the no through road. Follow this for 3/4 of a mile until road turns right & then before it turns left there is cattle grid ahead, cross this & follow farm track. On reaching farm buildings look for footpath sign directing you to left in front of large barn. Go through gate & down green lane towards sea. Follow this lane for 600m & at gate with lovely view of Mwnt go straight ahead & follow path to cafe & beach. Now retrace your tracks for about 500m & just before reaching Clos-y-Graig farmhouse turn up towards and through gate.
Heol-Cwm – Follow this track, which becomes an unclassified road, for about 1.5 miles; 300m after Heol-Cwm turn left at junction & after 250m turn right through farm buildings to 4 gates. Go through second from left gate & follow green lane until it turns right. Take kissing gate on left & follow lane to house & turn right at road.
Follow this road for nearly 3/4 of mile & then, when it turns sharp right, go across stile to right of gate ahead & down right hand side of 2 fields. Turn right in field corner & then left into rather muddy green lane. Follow this for nearly 500m. Turn right & then bear left down track past farmhouse. Pass chapel, go left uphill & follow this road for 450m until it bears left. Take track on right and follow this to junction of Felinban & Cnwc-y-Dintir. Turn left & go down edge of car park & then down road ahead back to start of walk.
Accommodation