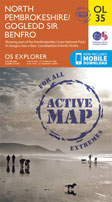 Walk information
Map:: Explorer OL35 North Pembrokeshire
*Distance 7 miles – from Ceibwr Bay to Newport Sands
Approximate Time 3.5 hours

Description A spectacular walk that includes the famous 'Witches Cauldron' and the picturesque National Trust headland of Ceibwr Bay and ends in the small welcoming town of Newport.
*Start To start the walk from Moylgrove car park. Grid reference SN 118 447 add 1.5 miles and to finish the walk in Newport town, add a further 1.8 miles. [10.3 miles total]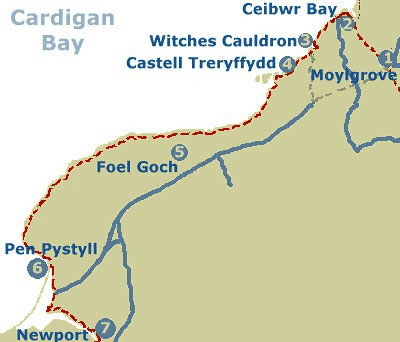 PLEASE NOTE Some stretches of this path are steep and the cliffs are very high, less experienced walkers may wish to allow longer and be sure to check the return Poppit Rocket bus is running, for more experienced walkers a day long 'there and back' walk is a real treat! You can read more about Moylgrove here.
This is a lovely walk, but please be aware that it is almost all on cliff paths, with some steep sections up and down to the deserted coves, there is no access on or off the path between stages 4 and 7 so packed lunches and drinks are advised.
Moylgrove – Turn left out of car park & after few metres turn right by chapel.
Continue along road until you reach Ceibwr Bay. Alternatively start your walk at Ceibwr where there are a couple of lay-by's to park.
Ceibwr Bay – (The cliffs here are famous for their amazing strata produced in the Caledonian period 450 million years ago.) Carry on along road for short distance to coast path sign on right, go over stile & follow coast path for about west a mile to dramatic bay known as the 'Witches Cauldron'. Look out for Gannets, Choughs, Gulls, Fulmars, Shags, Cormorants, Buzzards, Ravens and Kestrels
Witches Cauldron – (This is a collapsed cave and at certain points of the tide the water makes wonderful noises as it is sucked under the narrow arch of rock).
Castell Treryffydd – is an Iron Age Hill Fort, look our for seals particularly along this stretch.
Foel Goch – Another good place to spot seals and dolphins from the escarpment above the cliff.
Pen Pystyll – The small waterfall at Pen Pystyll is above a tiny beach from where you can enjoy the sunset or an secluded swim before the last of the walk to Newport Sands or further to Newport town.
Newport – The coastal path turns inland at the beach to follow the estuary to the bridge across the River Nevern which will take you up into the town of Newport, with pubs serving food, cafes and shops.It is possible to do this walk in either direction and use the Poppit Rocket Bus service from early May until late September, to return to the start of the walk  Click here for the timetable . A circular walk from Ceibwr to Newport Sands and back along the small lanes makes a full days walk.
Accommodation