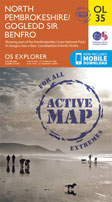 Walk information
Map:: Explorer OL35 North Pembrokeshire
Distance 3.5 or 6 miles
Approximate Time 1.5 or 3 hours

Description A spectacular walk that includes the famous 'Witches Cauldron' and the picturesque bay of Ceibwr as well as pretty inland wooded paths that afford fine views of the Preseli hills.
Start The walk starts from the Moylgrove car park. Grid reference SN 118 447.

Moylgrove – Turn left out of car park & after few meters turn right by chapel. Continue along road until you reach bay. Carry on along the road for a short distance to coast path sign on right, go over stile & follow coast path for about 1/2 a mile to a dramatic bay known as the 'Witches Cauldron'.
Carry on along path & after very steep climb soon after top of cliff at clearly signposted junction in path turn left off coast path. Follow this very pleasant path through wood & after stile turn left. Follow sign to right & go up lane. Go through gate & turn right, go over stile turn left. Follow sign to right & go up lane. Go through gate & turn right, go over stile & straight ahead. Turn left after farm building, up track & over stile. Turn left & follow road back to car park.
Part 2 – Go left out of the car park, but this time turn left opposite chapel. Go down path to gate ahead of you where you bear left down small track. Follow this alongside steam, left over bridge to edge of wood. Now follow right hand hedge line to gate left of house. Go through here & right past house & up track. At top of track bear right onto minor road & go down to cross roads where you turn left.
Penrhiw Forge – Follow road down past line of impressive beeches, continue uphill to Penrhiw Forge on left, shortly after which is large gate & stile With Signpost. Go through here & follow green lane. Go over 2 stiles keeping straight ahead & on through way-marked gate, taking care as next stretch is often very muddy. Follow round past farm buildings through way-marked gate & along another very muddy stretch. Go through 2 more gates round some stables to junction of tracks, turn right here by wall and through way-marked gate.
Ceibwr Bay – Follow track to lane, then carry straight on to join road from St Dogmaels. Carry straight on to reach sign on right to coast path. Go down farm lane for over 1/2 a mile & then turn left at Tre-Ryhs. When after 600m, road bears right yo Pen-y-Graig farm, go straight ahead. Carry on to bridleway sign & gate on left, go left & after a few meters ignore sign on right to coast path, & carry straight on. A few meters after house, go over stile on right & follow path steeply downhill to beach of Ceibwr Bay. Go along edge of beach & over slate bridge. Now turn left then right & you are back on the road. Turn left and follow road back to chapel and car park. It is possible to get to this walk using the Poppit Rocket Bus service which runs from Fishguard to Cardigan [Poppit Sands Beach] from early May until late September. Click here for timetable
Accommodation