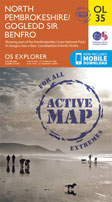 Walk information
Map::
Explorer OL35 North Pembrokeshire
Distance 4.5 – 5.5 miles
Approximate Time 3 hours


Description A Circular route of varying length through rich agricultural land, pretty woods and the fringes of the village of St.Dogmaels offering a variety of views of the town and the Teifi estuary. A good walk for Spring wild flowers.
Start The walk starts on the south side of the old Cardigan Bridge facing Cardigan Castle.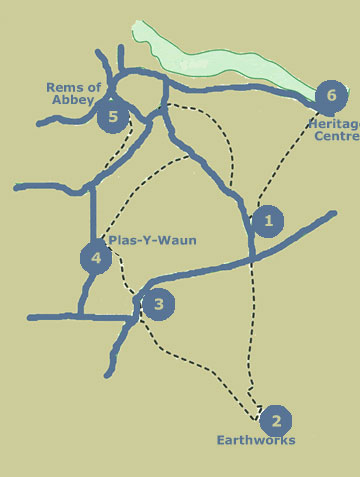 Refreshments are available in the many cafes in Cardigan before you start your walk, or at the lovely café in St Dogmaels Abbey which now has an excellent interpretation centre.
Old Bridge across from Cardigan Castle – Turn right & then right again into a small lane & along this for a few meters into St Dogmaels Rd (B4546). Turn left & cross road, heading for bend in road with bridleway sign. Go up this lovely leafy green for about 500m to Parc Yr Eithin Farm. Go through two bridlegates, & then over stile after house . Carry on up this muddy lane to where the track bends slightly to left. Go over stile & follow track till you reach quiet Rd
Earthworks – Turn left and follow road uphill to reach main Cardigan to Fishguard Rd. Cross this to the two gates ahead. Go through left hand gate & follow right hand edge
of this long field. As you go up the hill will have a lovely view of the Preselis & the estuary. On approaching big gate, don't go through it, take the path to right gate. Carry on past slurry pit & then through waymarked gate & down right hand side of next two fields.
Cross third field following left hand edge downhill to gate at end, passing waymarker on left just before reaching gate. Follow right hand side of next field around to reach gateway on right into rocky lane. Enter lane & follow it down for just over 100m. When you see farm gate ahead look right to find leafy path going sharply right about 20m from gate.
Follow this above edge of long field for about 200m, at fork in path go to left slightly downhill. Go through metal gate & turn right, following right hand edge of field to reach stile
ahead of you. Cross stile & go across next field until filed edge turns sharply right uphill, don't follow this but carry on ahead & after about 20m note fence with stile in it. Cross stile & path goes into wooden section & then pat 3 ponds on left, (see Dragonflies). Now follow this track uphill for about 900m to reach the main Rd again.
Blaenwaun Chapel – Cross road, go straight through yard of cement works & follow path ahead. Where the path forks, bear right downhill & carry on until you emerge opposite
cemetery of Blaenwaun Chapel.
You now have a choice of routes. For shorter route 1 turn right here & follow bridleway past chapel or for slightly longer route 2 take small road which goes left & then right round edge of graveyard.
Route 1 – Follow Bridleway for just over 1/2 mile onto road opposite large house , Plas Newydd. Turn right & follow this quiet road along for about 700m until you see bridleway on left which takes you to Parc Yr Eithin farm & start of walk.
Route 2 – Follow this quiet Rd down for about 450m.
On reaching T-junction turn left & after few meters note footpath sign on right. Turn up here & after couple of meters come onto beautiful track which winds along top of valley. When reaching end of track after passing a few houses, you come out onto small road opposite metal gate.
Parc yr Eithin Farm – Turn sharp right here & head downhill. When road ahead curves left, take short cut over little bridge on left & go straight ahead to emerge opposite house called Arwel. Turn left & walk down hill for about 80m to turning on right, signed 'Mwtshwr) high up on wall behind you. Go down here past green kissing gate & sign to Hendy & Parc y Pratt on left, keeping straight on to clearly waymarked gate ahead. Go through gate & across
a third field, head towards next stile which enters a little wood. Follow stone path upwards to come to waymaker & continue to reach gate ahead.
Turn left onto small road & after few meters reach bridleway on left which goes past Parc yr Eithin Farm & back to river & start of the walk
Accommodation