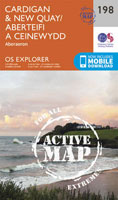 Walk information
Map:: Explorer 198 New Quay and Aberporth
Distance 3 – 4 miles
Approximate Time 2 hours

Description A wonderful circular coastal walk with views across to the Lleyn peninsula on clear days and a gentle wooded section.
Start The walk starts from the FREE car park above Llangrannog or you can park by the sea (but beware the high charges and problems paying without a phone signal) and start your circular walk there.
Above Llangrannog – a lovely place from which to start your walk.
St. Mary's Well – This ancient well is as old as Llangrannog itself, and was a popular destination for pilgrims who would take the water for health purposes.
Waterfall – The height of the water was used to drive a woollen mill situated a few yards away [which is now in ruins on private land]
St. Crannogs Church -Originally built in wood about 500AD by St.Carantoc who also visited Crantock, Cornwall, Carhampton, Somerset and Carantec in Brittany. The present church building dates from 1885, but houses many treasures dating from Norman times. The grave of Sarah Jane Rees [Cranogwen], a local female Master Mariner, crowned bard and equal rights campaigner is situated in the graveyard.
Lime Kiln – The only remaining kiln of five that were used in Llangrannog for burning the imported limestone. The lime was then sold to local framers to spread on the acid soil.
Carreg Bica – According to legend Carreg Bica is the tooth of the giant Bica who lived in the Cardiganshire area, and who was forced to spit his tooth onto the beach following a bad toothache. In reality, the rock is a stack of Ordavician rock weathered by the sea, one of many along the coastline.
Urdd Centre
Lochtyn Headland – Panoramic views across the sea to the Lleyn Peninsula and the Welsh Mountains, and offering the chance to see seals and dolphins.
Accommodation