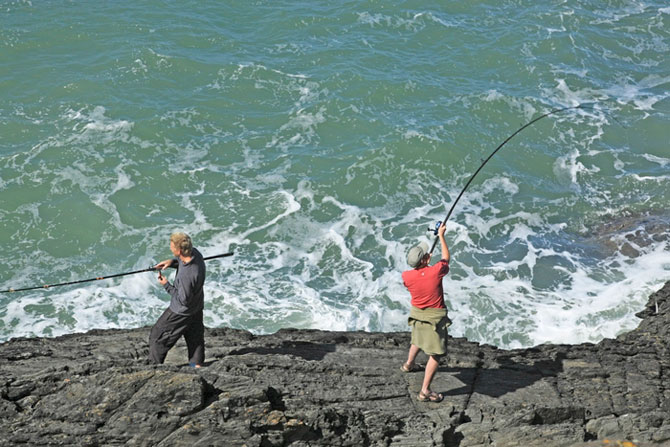 Angling, including great sea fishing, and the thrill of game fishing on the rivers for salmon and sea trout make Cardigan Bay West Wales a great place to fish.
Sea Fishing
Cardigan Bay has a wonderfully indented and spectacular coastline. It includes splendid beaches offering bass and mullet and cod in winter and many rocky shores where pollack, wrasse, mackerel and conger lurk. The estuaries also attract flatfish, dabs, dogfish, bass, turbot and if you get lucky a tope.
Fishing and exploring by boat is a stunning way of experiencing Cardigan Bay. Charter boats are available and there are plenty of places to launch your own boat between St Dogmaels and New Quay. Please download a copy of the Ceredigion Marine Code [PDF] which details how to protect Cardigan Bay dolphins, seals and porpoises.
Game Fishing
More than half the sea trout caught in England and Wales are caught in Welsh rivers and the fabulous river Teifi is home to salmon, sea trout (sewin), brown trout and grayling.
June to August are the best months to find the sea trout running with salmon running earlier in the spring and throughout September to early October. Cenarth Falls is a traditional beauty spot to to see the salmon leap and the whole river offers a majestic tranquillity rare in Britain today.
Rod licences for fishing salmon and trout can be obtained online via the Environment Agency website or at post offices. For more information please see www.environment-agency.gov.uk
Coarse Fishing
There are a number of lakes and fisheries in the Cardigan Bay area that offer day tickets for coarse fishing, including carp, in quiet and scenic locations
Some accommodation even comes with it's own opportunities for fishing: