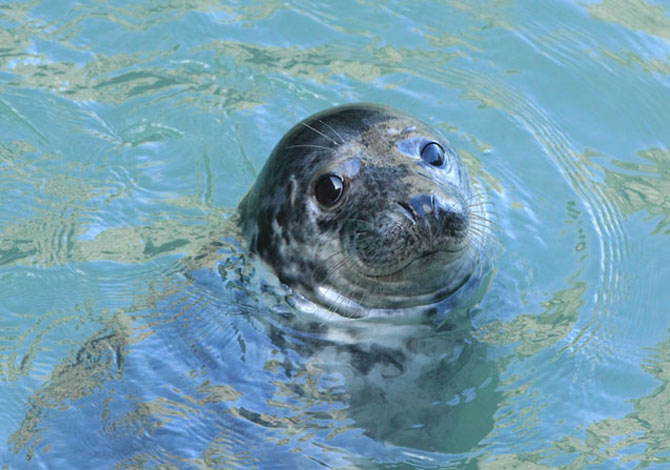 Cardigan Bay is home to a wide variety of Marine Wildlife, all of which can be seen with a little knowledge and patience.
Here are of some of the fascinating animals you may see.
Come to Cardigan Bay West Wales and see the Bottlenose Dolphin, Atlantic Grey Seal, Harbour Porpoise, and much more. The image above of the Atlantic Grey Seal is the most likely way you will spot them, they seem to take as much interest in us as we do in them. Look out for them as you walk any of the coast paths.
Atlantic Grey Seals
Around 130 thousand Atlantic grey seals inhabit the north Atlantic and Baltic waters. They are regularly seen from the shore around Cardigan Bay offering a fascinating sight with their large bulbous heads protruding from the water, eyes staring in a friendly curious manner. They can grow to 2.5 meters in length and weigh over 300 kgs.
There are various places around Cardigan Bay to see these spectacular animals. In September and October seal pups are born. They can be seen on the beaches especially Cwmtydu (Seals Bay). It is important to stay away from the pups, and please do not allow dogs to approach them. If you are flying a drone, please keep it away from seals and never land it on a beach with seal pups. The mother seal will not leave the sea to feed the pup if people are near the pup, leading to distress for them both. It is possible to enjoy watching the seal pups from the coast paths, without disturbing them.