The Preseli Hills (Mynyddoedd Preseli), a wide stretch of high moorland with many prehistoric monuments are thought to be the source of the bluestones used in the construction of Stonehenge. The dramatic Pentre Ifan neolithic burial chamber [dolmen] makes a very interesting day out on Cardigan Bay.
Prentre Ifan dolmen burial chamber. The surviving stones formed the doorway and main chamber of the tomb, which would originally have been covered by a large mound of stones about 30m x 17m. The stone chamber was at the southern end of the long mound, which stretched off to the north. To visit Pentre Ifan, take the A487 to the junction for Nevern close to Newport. Turn away from Nevern and follow the sign to Cilgwyn and the Gwaun Valley [Cwm Gwaun]. The site of the dolmen is well signposted and there is some parking available in the lay-by a short walk of a few metres following the hedge.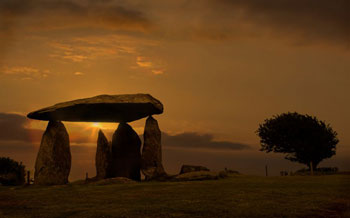 The lanes between the main coast road and the Gwaun Valley are a delight for cycling through quiet countryside.
For other local historic sites to visit see also: Cilgerran Castle and Cardigan Castle