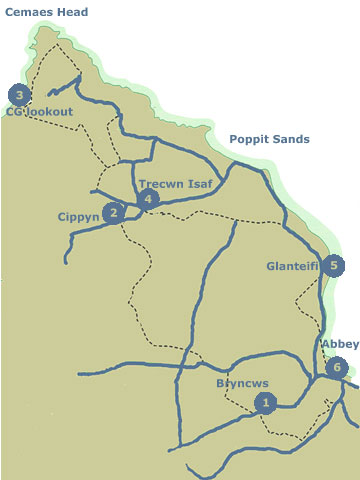 Start The walk starts from the car park opposite the post office in St. Dogmael's. Grid reference SN 164 460.
Refreshments are available in the lovely café in St Dogmaels Abbey which now has an excellent interpretation centre.
Cwm Degwel – Turn left out of car park & after road with care , turn right after post office & head up to Mill & Abbey. Follow road round past millpond & Garage & turn right at T-junction. After few meters bear right into Cwm Degwel. After about 100m at fork in road, turn right in front of house called Abbey Forge to go down grassy track, over small bridge. Turn right & head uphill. After about 250m small road bears sharply left, just before metal gate on right. Go down here few meters to no through road sign& then footpath sign. Go down here few meters to no through road sign & then footpath sign go down this beautiful green lane. After about 750m look for waymarker post & turn right through kissing gate. Follow right hand side of filed to enter green lane another gate. At end of lane go through another gate & follow right hand side of filed past front of house through metal gate to turn left along track after 300m at minor road turn left.
Follow road for 150m to waymarker on right. Turn right & follow left hand edge of field for about 40m to cross a stile . Follow field edge to corner. Cross stile & go down left hand side of 2 fields & then through metal gate by farm buildings. Turn right & go through farm yard and down track. After 250m turn left at minor road & then after 300m , at fork in the road, bear right down muddy track. Ignore track on left & carry on ahead . Before farm buildings road forks , take left hand fork. After another 300m road forks again, take a right hand fork & head downhill to pass another farm on right, go through metal gate at farmhouse into green lane . Go down lane to cross stream, then go up left hand side of field & through gate in filed corner. Go through another gate on right & follow wide green lane through several gateways until you come to 2 gates. Go through right hand gate & follow left hand field edge to gate opposite Chapel.
Cross minor road to bridleway sign opposite. Go through gate & turn left at farm track to ruined chapel, through gate & then turn right immediately after chapel. Go through gate follow path to bridleway sign by clear track farm. Follow this track to front of buildings, go through gate & bear round to right. Go over cattle grid & then, where bridleway points left, follow footpath sign ahead down right hand side to 2 fields. At junction in paths go over stile following bridleway, to left. Follow lane turning right after about 100m & then go straight ahead for 400m heading towards disused coast guard lookout hut.
Go over waymarked stile & then almost immediately cross another stile on right after which turn left. Follow this path steeply down hill. Go past ruined lookout hut & over stile. Follow path over several stiles for about 3/4 of mile to reach farm yard. Follow track past campsite & carpark. Now follow road for just over 1/2 a mile to a house with a lantern on a white pillar called Cnwcau, on right. Turn left in front of house, down muddy bridleway to field gate ahead & turn left over stile. Go down right hand side of field heading for yellow marker post. Go up little steps in wall & over stile. Carry on ahead across 2 more fields& over stiles, turn right into lane. Now follow bridleway, back to ruined chapel & the down farm track.
Turn right into road. After few meters there is rather hidden shady lane on left with red no entry road sign at top. Turn left into lane & follow it ahead for about 250m to farm buildings. Just before buildings turn right to cross stile & follow left hand side of field. Bear left after few meters & head towards & through metal gate. Follow right hand side of field until end of fencing, cross stream & go uphill to gate on your right, don't go through gate, but turn left & follow track for about 300m. After passing caravan park on left cross little stream & head uphill. Pass kissing gate on left & bear round right. Ignore green lane on left & go right to cross stile . Turn left & head straight along track for nearly 1/2 mile. Turn right & there is now a stretch of 3/4 mile on main road.
Albro Castle – Turn right opposite house called Glanteifi & follow pleasant track uphill for 400m. Cross waymarked stile on left & head diagonally across filed corner to another stile, just to right of bungalow. Cross stile & go along in front of imposing Victorian buildings of Albro Castle. At end of building turn left & head downhill for few meters to footpath sign on right . Turn right & follow this wooded track for about 150m to stone stile . Cross stile and go down this little terrace, turning left at T-junction. Go down to main Rd again turn right , after about 100m note footpath sign on left, cross road with care & follow sign to left . Follow shady tree-lined path along edge of river, continue to wide expanse of grass in front of pub, carry on ahead & cross playing field to car park.
Accommodation