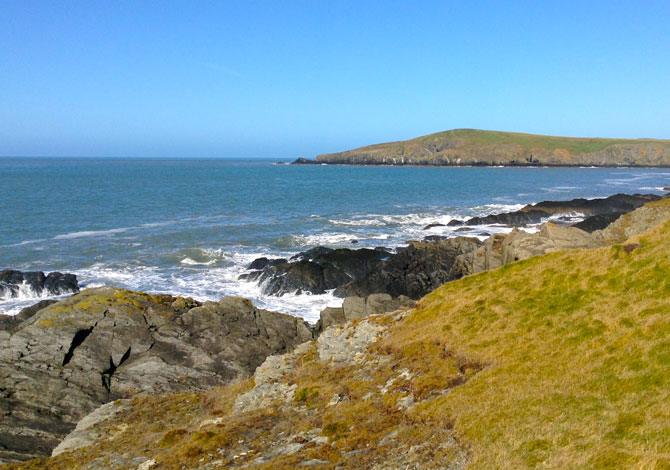 Gwbert is a small cliff top coastal hamlet overhanging the broad mouth of the Teifi river and Cardigan Bay.
Gwbert looks across to Pembrokeshire, the curved sweep of Poppit Sands and the sea breaking over the infamous Cardigan sand bar, the site and cause of many wrecks during the years that Cardigan built and sailed wooden ships down the river, across the Atlantic, and all over the world.
It is known that Gwbert was the name of an early wandering saint who is said to have landed here and sheltered in a cave. Interestingly, along with saints Pedrog, Briog, Carannog and Meugana, he is honoured in churches not just here in Wales but also in Cornwall and Brittany. At Craig y Gwbert, on the seaward edge of the Cliff Hotel grounds, are the smooth grassy earth bank remains of an extremely well defended Iron age fort. It makes a superb place to enjoy dramatic sunsets surrounded as it is by wild rocks and sea on three sides.
Gwbert Cardigan Bay
These days Gwbert has very comfortable places to sleep, eat and drink and generally keep body and soul together. There is the Cliff Hotel which must have one of the UK's most magnificent views from its dining rooms, The Gwbert Hotel which has a restaurant and a pleasant outdoor area overlooking the bay, and Cardigan Golf Club, even higher, which is open to non members for food and drinks.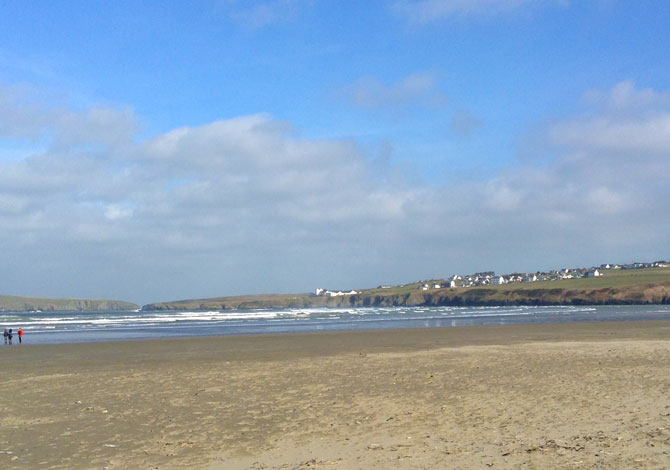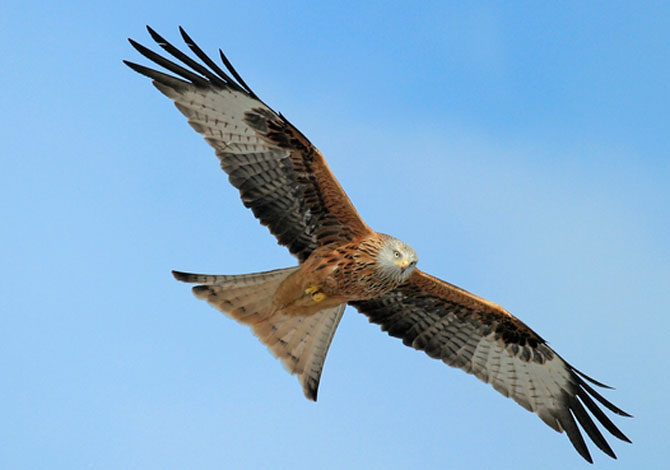 Exploring Around Gwbert on Sea
The outdoors; the landscape, the seascape, the huge skies are the main attractions here. Gwbert is just three miles from Cardigan town but feels very much on the edge of western Europe looking out to the vast Atlantic towards Ireland and on to America. This feeling of wildness is added to by the commonly seen dolphins, porpoises, grey seals and, on odd occasion, basking sharks, orcas and minke whales, which have been spotted. Seals can be watched from Morgan's Beach below the Cliff Hotel. Bird life is equally rewarding the coast being home to chough, gannet razorbill guillemot and manx shearwater while inland sweep lofty red kites, peregrines, kestrel and sparrow hawks.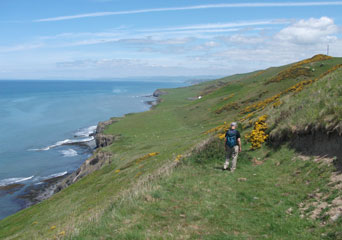 The All Wales Coast Path
Perhaps the most exciting recent development at Gwbert is the opening of The Ceredigion Way a fabulous, beautiful, 60 mile footpath that leaves Cardigan, passes through Gwbert and forms a section of the Wales Coast Path, one of the finest achievements of The Welsh Assembly.
Local Towns
For those interested in the arts Cardigan has two arts venues, Theatre Mwldan and Small World Theatre, which is worth visiting to see its fascinating new age building. Near to Cilgerran is Rhos-y-Gilwen Mansion which is set in a beautiful estate and attracts international musicians and artists.
For details of festivals and events around Cardigan see the Events page on this site