Friday 21 Oct 2022 - Sunday 23 Oct 2022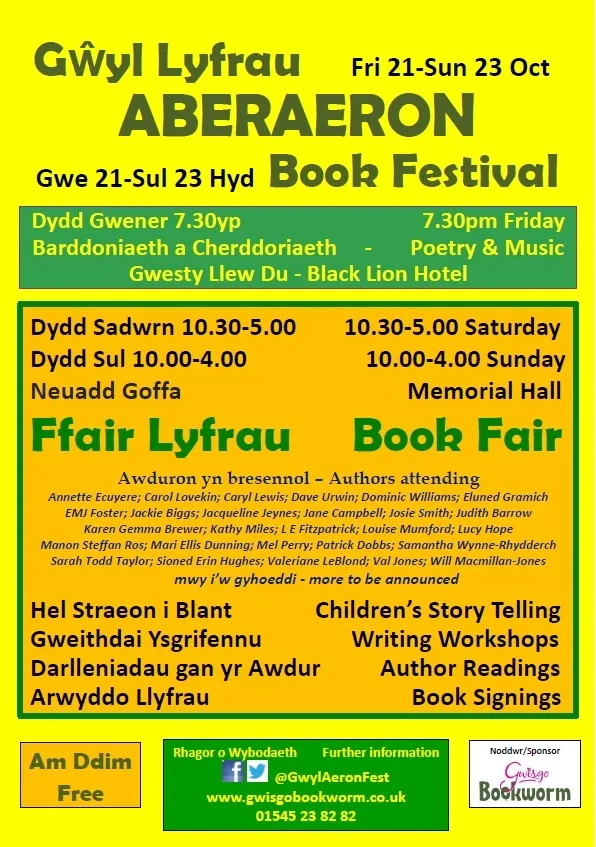 We have arranged for five wonderfully talented authors and poets to take workshops at the festival this year. These will take place at the Memorial Hall in the Meeting Room on the right as you enter the Hall. Workshops are £5.00 each and can be booked online here or please contact Niki or Karen directly through Facebook, Twitter or in the bookshop.
Workshops:
Saturday 22nd
Jane Campbell 13.15 to 14.45 Writing your Life in Poetry and Prose
Kathy Miles 15.00 to 16.30 Writing The Underland
Sunday 23rd
Judith Barrow 11.00 to 12.30 Setting the Scene: looking at description in stories
Mel Perry 12.45 – 14.15 Poetry of Place
Annette Ecuyere 14.30 to 16.00 Snow White had seven dwarves but only one was happy; Building stories around character belief systems and behaviours
Don't forget there's a Book Fair as well so lots of wonderful books to browse in between listening to author discussions, interviews, readings, poetry and maybe a bit of music too!
Price: £5
Email
:
info@gwisgo.co.uk
Web: gwisgobookworm.co.uk/aberaeron-book-festival/
Twitter: gwisgobookworm
Facebook: gwisgobookworm
Tel:

01545238282
Location: Gwisgo Bookworm
Add to Google Calendar