Friday 15 Feb 2019 - Sunday 17 Feb 2019 - 10:00 AM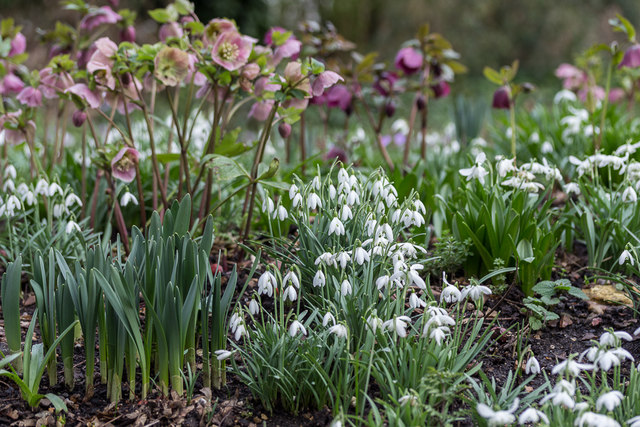 The three-day event is the perfect start to your gardening year with expert talks on everything from growing fruit and vegetables to keeping your garden colourful at any time of year.
SPEAKERS
Friday 15th February 2019
10.40 Snowdrops – Confessions of a Galanthophile. Julian Wormald will tell about snowdrops, in the UK – myth and history, cultivation, and his ongoing Historic Welsh Snowdrop Hunt. Finally an auction of bulbs – starts at 50p, sold to the highest bidder!!
1.00 Hellebores, winter wonders. Concentrating mainly on the Lenten Rose, Richard will guide us through the many interesting new additions to the already vast range. Learn how to grow them and how to avoid any pitfalls. Also propagation, hybridisation and general maintenance
3.15 Roddy Milne – 'Ornamental Grasses' A very welcome return, Roddy will enthral us with his passion for these architectural and often majestic additions to the garden. Excellent for summer colour with the added bonus of winter interest.
Saturday 16th February 2019
10.40 Carley Green from NBGW – Californian expedition. Carly Green will wow us with her pictorial talk on her visit to California, relating what she has seen in the U.S. to what we grow in sunny Wales. Also a brief talk about her work on conserving Welsh natural plants.
1.00 Gareth Davies – A love affair with Roses. A leading authority on Roses. No stranger to all aspects of this fascinating plant his knowledge is wide and detailed. Here he will give us a brief history of Roses, their uses in the garden, tips on their cultivation and the best of healthy modern varieties.
3.15 Matt Granfield – Vegetable growing. This could well be the highlight of the day!!! Matt will guide us through many aspects of vegetable growing. Very much a talk for the audience, this is set to be both informative and amusing. Richard will be along to lend a hand if the audience get too excited.
Sunday 17th February 2019
10.40 Joe Atkins head gardener at Aberglasney – Plant combinations. Joe's enthusiasm is so inspiring and this new talk promises to be as good as his others. If you are looking for ideas then this is the one for you. As always another one that is not to be missed!
1.00 Bob Dyer – Woodland Plants. Bob is one of those amazing people whose knowledge of gardening is humbling. He is a VERY keen amateur gardener who grows things. in his Gower garden. to die for. Come and see how he nurtures some of the rarest plants around. as well as the usual and popular. Can't wait to hear this one!
3.15 Malcolm Berry, the dreaded gardener – Organic Gardening. Our most popular speaker and one who fills us with inspirational, often slightly controversial and extremely wildlife friendly advice. His following is legendary, and his talks are totally in tune with nature. If you want to grow plants organically then Malcolm is your man.
Price: Free
Web: www.llandysul-ponttyweli.co.uk/
Location: Tysul Hall
Add to Google Calendar