Friday 14 Feb 2020 - Sunday 16 Feb 2020 - 10:00 AM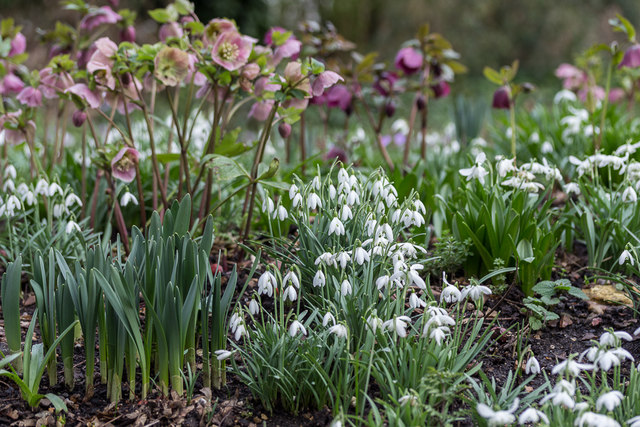 The three-day event is the perfect start to your gardening year with expert talks on everything from growing fruit and vegetables to keeping your garden colourful at any time of year.
This year will be our 23rd! And we have a fantastic line up of speakers for you. Malcolm will be back as well as talks from Joe from Aberglasney Gardens, Julian and Matt . With subjects ranging from Hellebores to Vegetables, Meadow planting and Wildflowers, Snowdrops and Woodland gardens to shade loving plants. The local Hall will be filled, as usual, with masses of interesting plants grown at the nursery. To whet your appetite this year, as well as a huge selection of our world renowned Hellebores, there will be a good range of young perennial plants in 9 cm. pots at bargain prices, cottage garden plants, shrubs, riots of colourful Primulas, Daffodils and Snowdrops to mention but a few. We also have a good selection of rare and unusual perennials.
The main display this years Llandysul Gardening Weekend, as always, is a closely guarded secret. The theme is taking shape but no one (including Richard who designs it) really knows until the day. Come and give us your opinions! One thing is certain there will be Hellebores there somewhere, this year we have several stunning new varieties that are to be incorporated into the display, most of which will be available as seed or young plants on the day.
The whole event is free and if gardening is not quite your forte there will be other stalls there to tempt you. Tea, coffee and cakes are in abundance.
Friday 14th February
10.00 Show opens – stands, display, tea shop
10.40am Wildflowers, Meadows and Gardens – challenging ideas for more naturalistic gardens. Julian Wormald returns with his incredible knowledge to help us with wild flower meadows and associated things.
1:00pm Hellebores– The Winter Jewels by Richard Bramley As always the gardening weekend wouldn't be the same without this talk. Always different and amusing. Everything you need to know about Hellebores.
3:15pm Snowdrops-What's all the fuss about-Richard Williams. The 21st century equivalent of Tulipmania. Snowdrops are so popular nowadays. Richard explains why, how to grow them and what people are so excited about.
5.00 Show closes
Saturday 15th February
10.00 Show opens – stands, display, tea shop
10.40 Re-creating the bog garden at The National Botanic Gardens of Wales. Do you have a boggy area in your garden then this is one not to be missed. James Kettle, a wonderful speaker, will enthral us with his knowledge and enthusiasm. Also other new developments at the gardens.
1:00pm 'The wonder of our native wildflowers and how to create a wildflower area with plug plants'. Lindsey from the wildflower nursery will tell us how to fill our gardens with a huge selection native and natural plants.
3.15pm Unusual fruit and vegetables to grow in your gardens. Come and join Matt and Richard from Farmyard Nurseries as they guide you through the less common and often exciting edibles. Should be a good one.
5.00 Show closes
Sunday 16th February
10.00 Show opens – stands, display, tea shop
10.40 Gardening in Woodland and wetlands Another welcome return – Joe from Aberglasney will enthral us once again with his wealth of experience. So if you need help this is one for you.
1:00pm Rare, interesting and unusual plant for shade gardens and stumperies! A new talk by Richard Bramley requested last year. The nursery grows many unusual plants, come and see a selection that will grow in the shade and maybe build your own stumpery.
3.15pm Back garden Biodiversity. The ever popular Malcolm Berry will return again to show us how to garden in tune with all things natural. A 'must hear' talk.
5.00 Show closes
Price: Free
Web: www.llandysul-ponttyweli.co.uk/
Location: Tysul Hall
Add to Google Calendar