Monday 11 Nov 2019 - 07:30 PM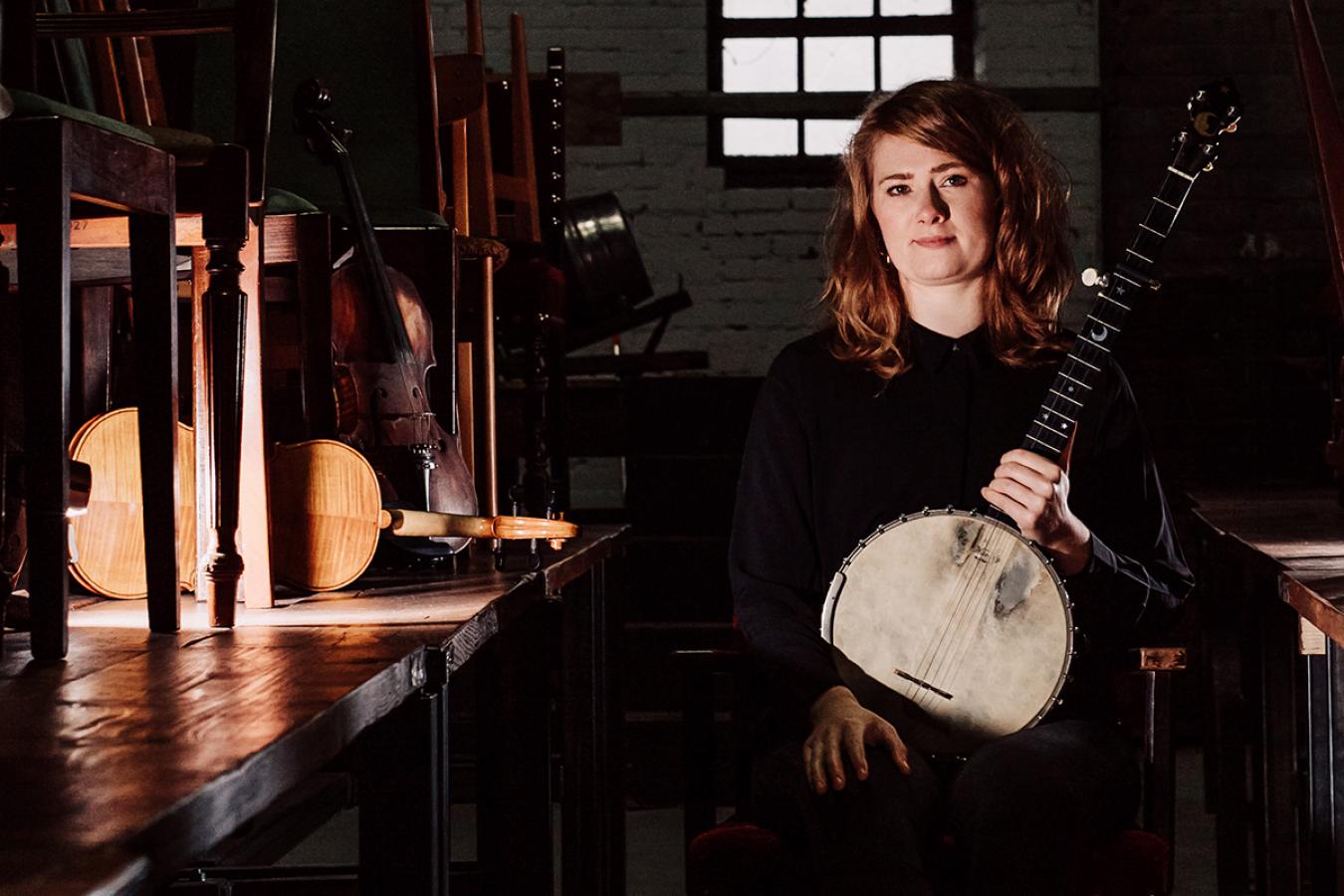 Rowan Rheingans is a fiddle player, banjoist and songwriter widely regarded as one of the foremost in-novators in folk music today. Best known for her work with acclaimed bands Lady Maisery, The Rheingans Sisters and Songs of Separation, Rowan has won two BBC Radio 2 Folk Awards ('Best Orig-inal Track' in 2016 & 'Best Album' in 2017) and is a six-times nominee. Her duo The Rheingans Sisters are currently nominees in the prestigious 'Best Duo/Group' category at the the 2019 BBC Radio 2 Folk Awards.
In what will prove to be a career-shifting year, Rowan premiered her new solo show 'Dispatches on the Red Dress' in a two week run at the prestigious Edinburgh Fringe Festival in August. This Autumn, Ro-wan takes this ambitious and deeply personal one-woman show on a national tour. "a mesmerising gig that had me thinking for days" fRoots
An intimate and adventurous exploration of memory, identity, joy, sorrow, trauma-recovery, war and waltzes, Dispatches on the Red Dress tells the true story of Rowan's German grandmother's youth in 1940's Germany. With genre-melding fluidity, Rowan weaves immersive storytelling around 10 new songs (Rowan won 'Best Original Track' at the BBC Radio 2 Folk Awards in 2016 for her song Mackerel) performed live with fiddle, banjo, guitar and subtly inventive use of pre-recorded sounds.
In the current time of deeply felt political tensions, with the rise of racism in our communities and a new nationalistic fervour gaining pace across Europe, Dispatches on the Red Dress is a highly resonant and much needed historic provocation for our current political and social climate. Slowly revealing what is at once a warm family story and a troubling elegy on the modern human condition, Rowan explores how hope for the future may be found in the very darkest pockets of our history…
As well as being a heartfelt yet unflinching anti-war and anti-fascist statement, the show is also an uplift-ing celebration of small acts of every-day resistance, speaking directly to the human capabilities of trans-formation and change. It is Rowan's most courageous, most political and most personal work to date.
Having taken over two years to write it, Rowan describes how : "For me, this is a show about horror and beauty. It is also about trauma recovery, birdsong, war and waltzes. Hidden in the folds of my own grandmother's story, there is a profound darkness alongside, I think, a deeply hopeful message about humanity's capacity for transformation. It feels important, in our current social and political climate of half-truths and fake news, fueling a collective inertia that sometimes feels akin to a dangerous forgetting or mis-remembering of history, to share this story. I hope it will spur conversations about how we can resist the rise of the far right in constructive, supportive, creative ways. It is about the peace-making potential of telling different kinds of stories…"
Email
:
boxoffice@mwldan.co.uk
Web: www.mwldan.co.uk/
Twitter: @rowanrheingansmusic
Location: Mwldan
Add to Google Calendar