Monday 29 May 2023 - 10:00 AM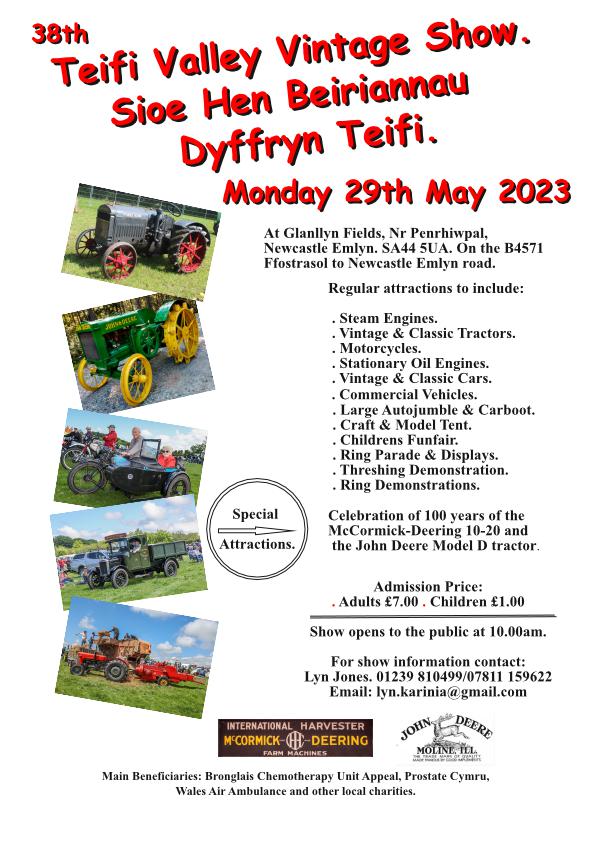 The Teifi Valley Vintage Club was formed by a small group of vintage vehicle enthusiasts in 1981. The group has steadily grown and now boasts a membership of around sixty people from the counties of Ceredigion, Carmarthenshire and Pembrokeshire bordering the Teifi Valley. From 1983 onwards the club has hosted an annual vintage show to display a range of vintage and classic vehicles.
Celebrating the 100th anniversary of the McCormick-Deering 10-20 and the John Deere Model D tractors.
The family friendly event is in it's 38th year and will have over 150 tractor, around the same number of cars, over 40 motorcycles, commercial vehicles and stationary engines. There will also be a craft and model marquee and fairground rides. A very popular attraction is the large autojumble and boot sale. Steam engines will also be on show with a chance for the younger children to take part in a tug of war against one of these impressive beasts.
Price: Adults: £7.00. Children: £1.00
Contact: Lyn Jones
Email
:
lyn.karinia@gmail.com
Facebook: NVTEC-Teifi-Valley-Group-962574020508856/
Tel:

01239810499 / 07811159622
Location: Glanllyn Fields
Add to Google Calendar