Wednesday 9 Jun 2021 - 10:00 AM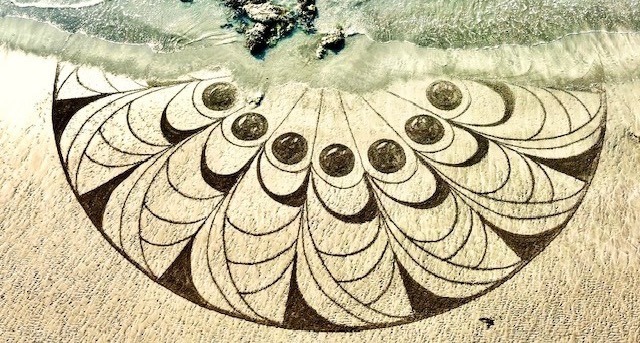 THE WAVE IN CARDIGAN AND ON POPPIT BEACH:
9th June 2021: A fun, Covid-safe, family friendly event.
(Tides – Low tide 2.50pm, High tide 8.10pm)
In CARDIGAN:
10am onwards: Large banners will be hung near the Otter statue. A river installation will be launched, and there'll be an information stall on the Quay with a Message Machine where you can write your message for the G7.
12.30 Street theatre by Small World Theatre – a roving lighthouse on a bicycle! Come and find out why!
On POPPIT BEACH:
2 – Rachel Shiamh will be making a GIANT sand design – come and watch!
2.30 onwards: Information stall at Poppit with the Message Machine where you can write your message for the G7
3ish – The sand design will be finished. The public will be invited to participate at this stage and it will be filmed from a drone.
4.15 King Canute will be carried towards the sea from the Lifeboat Station with his rabble of socially distanced courtiers (Could you be one of them?)
4.30 King Canute and his helpers will challenge the sea. Come and help him!
Bring your own picnic, bring a rake and make your own sand message to the G7, bring a kite to fly, be part of the GIANT sand design, join King Canute's Rabble of socially distanced courtiers – bring your own gowns, cacophony, whistles, horns, hats, flying rags and robes, colour, poles, staves, things to hold and point with (Contact 01559 371582 for information for King Canute's courtiers).
THE WAVE ~ Y DON is a UK wide Action being held around the country in the four days (7 – 10 June) leading up to the G7 conference 11-13 June 2021 in Carbis Bay, Cornwall. It will be in Cardigan and throughout Wales on Wednesday 9th June. THE WAVE will send a clear signal to Boris Johnson and the other delegates that ordinary people in coastal communities demand more action to tackle the Climate Emergency and Sea Level Rise.
Price: FREE
Contact: Philippa Gibson
Email
:
philippa.gibson@gmail.com
Facebook: extinctionrebellioncardigan
Tel:

01239654561
Location: Cardigan & Around
Add to Google Calendar