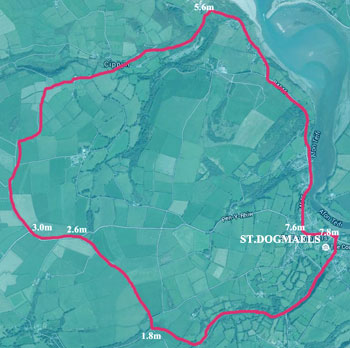 Cycle Route information
Map: Landranger 145 or Explorer 35
Distance Approx 8 miles 12 kilometers
Description Enjoy panoramic views of Cardigan Bay and on some days, Dinas Head. and even Strumble head to your left from above Poppit Sands
Distances on the left are approximate.
Start Opposite to the Fiat Car showroom on the main road into St.Dogmaels.
Go up David Street and continue up Cwm Degwel 
1.8 m 2.9 km T-junction ( give way ) Turn Right
2.6 m 4.9 km T-junction ( give way ) Turn Left sign posted to Moylegrove
3.0 m 4.8 km Junction ( right of way ) Straight on, sign posted Poppit 2.5 miles
Enjoy panoramic views of Cardigan Bay and on some days, Dinas Head. and even Strumble head to your left.
5.6 m 9.01 km Poppit T-junction ( give way ) Turn Right to return or Turn Left for Poppit Sands cafe, beach and RNLI lifeboat station and shop
7.0 m 11.25 km Arrive beginning of St.Dogmaels
7.6 m 12.25 km Road bends sharply to left, beware cars coming downhill from right who used to have right of way
7.8 m 12.5 km Arrive back at Fiat showroom in St.Dogmaels.
Finish St Dogmaels.
Bike hire and bike repair available from New Image Bikes Cardigan
Accommodation is available both around Cardigan, along the route, and in St Dogmaels please use the accommodation page for more information.